How 9/11 looked from the air-traffic control center that saw it coming
The air-traffic controllers in 'Boston Center' – the facility that oversaw Flight 11 – speak of what happened on 9/11, from the confusion of the first moments to the frustration that military jets could not get to New York City faster.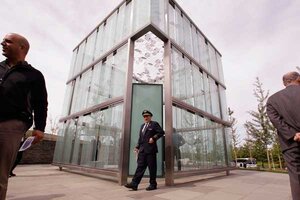 Stephan Savoia/AP
The first person on the ground to know that American Airlines Flight 11 on Sept, 11, 2001, was in big trouble was a lone air traffic controller, sitting in the perpetual half-darkness of the windowless flight-operations bunker in Nashua, N.H., known as "Boston Center."
His eyes fixed on the flight's icon, which had begun to move erratically across his radar screen, he radioed Flight 11 to adjust its course and climb at 8:14 a.m. Ten minutes later, Flight 11 finally radioed back: "We have some planes. Just stay quiet, and you'll be okay. We are returning to the airport."
By 8:46, Flight 11 had crashed into North Tower of the World Trade Center. The attacks of 9/11 had begun.
Less than 12 hours after the attacks, two controllers at Boston Center spoke anonymously to the Monitor – the first verified report of events and transmissions from the Flight 11 cockpit. Today, the controller who personally handled Flight 11 and tried in vain to contact it until it hit the North Tower, declines to speak about the experience, still burdened a decade later by the weight of the day's events.
But his colleagues, who also worked that day, and who were part of the team that responded by notifying US military authorities and closing US air space, bringing hundreds of passenger jets to a quick, safe landing, also remember vividly what happened. Gradually, the anguish occasioned by the memories of that day has subsided, but the mark remains.
---