New York's other 9/11 memorial offers a glimpse through survivors' eyes
The Tribute WTC Visitors Center tells the story of 9/11 through tour guides that are all survivors. It offers a unique look at the World Trade Center for visitors and a sense of solace to 9/11 survivors.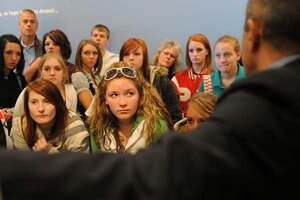 Newscom/File
On a sundrenched afternoon in August, a group of tourists from Asia, Europe, and the United States stood in silence before a bronze mural that honors the 343 firefighters who died on Sept. 11, 2001. Finally, their guide to the World Trade Center addressed the crowd.
"I have a friend up there on the wall," said the guide, Peter Tomolonis. Then he asked if there were any questions.
Mr. Tomolonis, who worked in the north tower for nearly 30 years, is a volunteer tour guide at the Tribute WTC Visitor Center. Originally intended as an interim destination for ground zero visitors while the official memorial was under construction, the center now plans to remain open even after the National September 11 Memorial launches this month.
During the past five years, the Tribute Center – with its galleries full of World Trade Center films and artifacts, and its guided site tours – has catered to the two crowds most drawn to ground zero: visitors who want to learn more about 9/11, and natives with intimate stories of the day's events, which they long to share.
In 2004, a group representing the relatives of firefighters who died on 9/11, the September 11th Families' Association, moved into a building that overlooks the World Trade Center site. Through an office window, Lee Ielpi, a co-founder of the group, noticed a daily stream of visitors wandering around the fenced-off perimeter.
---