Remembering the audacity of the twin towers
The soaring twin towers of the World Trade Center became an affirmation of the American value of dreaming big. To the engineer who designed them, their loss on 9/11 remains heartbreaking, but he's found the resilience to keep dreaming.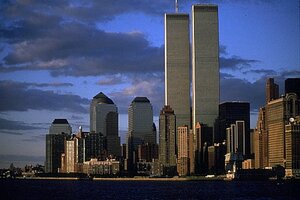 Liza M. Greene/AP
They were too large, too sterile, and too indifferent to their surroundings. But the World Trade Center towers were also a reminder of what America could achieve. Conceived at the same time President Kennedy committed to putting Americans on the moon, they would become an affirmation of the value of thinking large.
Their demise on 9/11 has been deeply mourned, though not as grievously as the innocent lives lost that day. With their sleek lines and audacity to rise a quarter-mile into the sky, the towers did eventually win the adoration of most of New York and her visitors. Who among us has watched a pre-9/11 movie and not felt a stab upon seeing the New York skyline with the two iconic sentinels intact?
Like many things dreamed of in the 1960s – the Great Society, "Model Cities," a new civil rights law – the towers were beyond anything builders had ever contemplated. Each of the 110 stories in each structure was nearly an acre. The buildings married 200,000 tons of steel, 425,000 cubic yards of concrete, more than 43,000 windows, 198 miles of heating and cooling ducts, 12,000 miles of electric cables, and more than 100 elevators. Ten thousand people worked on the towers. The World Trade Center would take 10 years to realize, and when it opened in the early 1970s, it was so large it had its own ZIP Code.
---