How 9/11 made Barack Obama a war president
Many expected Barack Obama to be an antiwar president. But he embraced his role as commander in chief of the world's most powerful military, escalating the fight against the Taliban and Al Qaeda.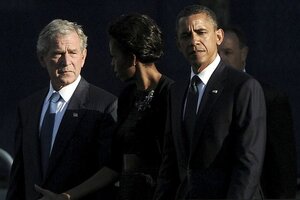 Justin Lane/Reuters
When he took office in 2009, Barack Obama immediately became a war president, a two-war president in fact. The terrorist attacks of 9/11 had made that inevitable.
Yet it seemed an unlikely role. He had been a constitutional law professor and community organizer who had never served in the military. During his brief time in the US Senate, he served as a junior member on the Foreign Affairs and Veterans' Affairs committees, but military issues were not his specialty.
Consider one difference with his immediate predecessor in the White House: Though he'd cut short his time in the Texas Air National Guard and never served overseas, former president George W. Bush had easily transferred his Texas persona to a "mission accomplished" swagger across an aircraft carrier flight deck. Obama would have looked as out of place there as Michael Dukakis did in a US Army tank during his failed 1988 presidential bid.
RECOMMENDED: How 9/11 has shaped a generation of Americans
Yet in his 32 months as president, Obama – a Nobel Peace Prize winner – has embraced the role of commander in chief of the most powerful military in human history.
---