Obama sending jobs bill to Congress. How fast will lawmakers act?
In the Rose Garden, President Obama urged quick action on his jobs bill, which he said was being sent to Congress on Monday, and warned the GOP not to play politics at a time of need.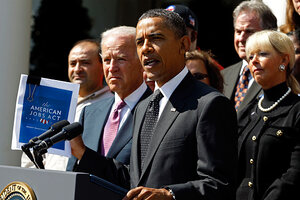 Larry Downing/Reuters
President Obama on Monday said he would send his jobs bill to Capitol Hill within hours and urged lawmakers to consider it without delay.
"I am sending this to Congress today and they ought to pass it immediately," Mr. Obama said in a sun-splashed Rose Garden appearance.
Obama said that many of the things in his legislation have been supported by both Republicans and Democrats in the past, and thus if the GOP balks at his measures the party will be playing politics at a time of great national need.
The president mentioned he had read a Washington Post article that quoted an anonymous Republican congressional aide as saying that it was not in the GOP's interest to pass an Obama jobs bill at the moment.
"That's the attitude in this town. Yes, we've been for these things before, but I don't know why we'd be for them right now," Obama said on Monday.
Will Congress take up the bill post haste? What's the reaction been so far to the administration's pressure?
Well, for a week now Republican congressional leaders have said they are eager to work with the president to identify areas with enough bipartisan support to pass. They continued to sound that theme on Monday.
"It is my hope that we will be able to work together to put in place the best ideas of both parties," House Speaker John Boehner of Ohio said in a statement issued after Obama's Monday appearance.
But that does not mean hearings start Tuesday morning. Speaker Boehner also noted in his statement that the first thing he will do is request that the bill be analyzed by the Congressional Budget Office for a separate opinion on the cost and effect of its various measures.
---