Census report: More Americans relying on Medicare, Medicaid (VIDEO)
More people turned to Medicare and Medicaid last year and fewer relied on employers for health insurance coverage, the Census Bureau reported Tuesday. What does this portend for Obama's health-care reform law?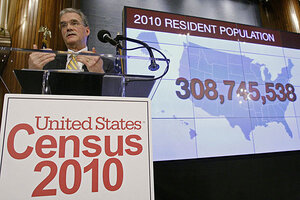 Jacquelyn Martin/AP/File
More people relied on state and federal health insurance programs as employer-based plans became more expensive and as US unemployment levels remained high, according to the US Census Bureau's annual report on income, poverty, and health insurance coverage.
About 1.5 million fewer Americans had health insurance plans covered by their employers in 2010 than in 2009 – while 1.8 million more joined government insurance plans.
The number of people covered by Medicaid, the government program for the poor, increased 1.5 percent to 48.6 million. Those covered by Medicare, the government program for the elderly, rose 2.1 percent to 44.3 million.
Already, Republican presidential candidates are attacking President Obama's new health-care law for growing the size of the federal government. So what do these numbers say about his health-care reform?
Some say the report demonstrates a weakness in the Obama health-care law – and is a clear admonition for voters.
---