Majority of blame for Gulf oil spill lies with BP, two US agencies find
The US agencies' exhaustive report on the Gulf oil spill said complacency and cost-cutting led BP to make a series of decisions that complicated operations and added risk before the rig exploded.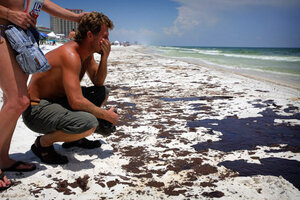 Edmund D. Fountain/St. Petersburg Times/AP
British oil giant BP deserves the majority of the blame for last year's Gulf of Mexico oil spill, according to a federal investigative report released Wednesday.
The report, which goes furthest in assigning blame to BP, is significant because it is the most exhaustive to date on the circumstances that caused the April 20, 2010 explosion of the Deepwater Horizon oil rig. The blast resulted in 11 deaths and led to the release of 4.9 million barrels, or 206 million gallons, of oil into the Gulf of Mexico, for weeks afterward.
Common themes in the report are complacency and cost-cutting measures. Lending credibility to its findings is the fact it was produced by the two federal agencies tasked with regulating and enforcing offshore oil drilling in the Gulf: the Bureau of Ocean Energy Management, Regulation and Enforcement (BOEMRE) and the US Coast Guard (USCG).
Much of the two-volume, 505-page report follows in the footsteps of an earlier report released in January by a presidential commission assigned to investigate the incident, plus internal reports published separately by BP and rig owner Transocean, as well as others produced by independent groups of environmentalists and university scientists studying the spill.
But the BOEMRE/USCG report is the most expansive in detailing how BP, more than Transocean and Halliburton, the BP contractor responsible for conducting the cement job, violated federal regulations for offshore drilling.
---