Casinos multiply as states, such as Massachusetts, hunt for jobs, revenue
Ohio, Kansas, and Maryland now have casinos. Florida may consider them. Massachusetts is poised to invite them in. Hard times tip the balance to economic over social issues, analysts say.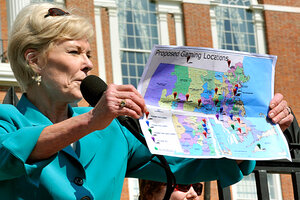 Josh Reynolds/AP
Massachusetts appears poised to open its doors to casino gambling – amid a flurry of recession-driven interest in gambling to boost jobs and tax revenue.
In Ohio, a new Cleveland casino is in the midst of hiring 500 workers to staff its gaming tables – and it's one of four expected to open in the state after voters agreed to casinos in 2009. Casinos have opened in recent years in Kansas and Maryland. And in Florida, lawmakers are preparing a proposal to allow resort-style casinos.
Previous efforts to allow casino gambling in several of those states had failed – but times have changed.
"When we hit recession, the attention of legislators and the weighing and balancing of economic considerations versus social considerations really swings toward the economic," says Bill Eadington, an economics professor and the director of the Institute for the Study of Gambling and Commercial Gaming at the University of Nevada, Reno.
---