Reno air crash: Will tragedy at air race sour public on air shows?
Air show officials are hoping that any public backlash following the tragic air crash at the Reno Air Races, in which 10 people were killed, does not extend to their industry's scripted entertainment.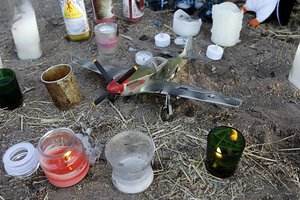 Paul Sakuma/AP
The crash of a World War II-era plane last Friday that killed 10 people and injured dozens more at the Reno Air Races in Nevada will undoubtedly lead to a review of safety regulations and may give longstanding critics of the Reno event the ammunition they need to press for its cancellation.
But pending the outcome of the investigation into the tragic crash of the P-51 Mustang – the National Transportation Safety Board and the Federal Aviation Administration say initial results will be released this Friday – air show officials are expressing concerns that an anxious public not lump their industry in with the higher risk air races.
Although both events developed as an outgrowth of barnstorming – the popular form of entertainment in the 1920s in which stunt pilots would captivate small towns by landing in corn fields and then create live shows on the spot – air racing and air shows are very different and should be understood as such, says John Cudahy, president of the International Council of Air Shows (ICAS).
Both became wildly popular before World War II but the air race business has shrunk – the Reno event is the only unlimited class (i.e. vintage planes) air race event in the US, he says – while air shows continue to grow.
---