Troy Davis makes 'unprecedented' bid for clemency. Will it save his life?
More than 600,000 people, including leaders like Archbishop Desmond Tutu and former President Carter, have urged a Georgia clemency board to commute Troy Davis's death sentence.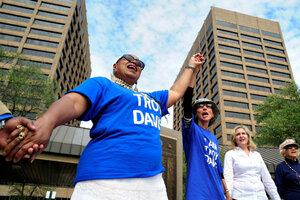 John Amis/Reuters
After 20 years of professing his innocence and with three scrapped execution dates behind him, Troy Davis launched a last-ditch effort on Monday to save his life ahead of a Wednesday execution date in Georgia.
As thousands – including the pope – wait in vigils around the globe, a Georgia clemency board is hearing testimony in what promises to be a contentious hearing over whether there's enough new evidence to show that Mr. Davis did not shoot and kill off-duty Savannah, Ga., police officer Mark MacPhail in 1989.
When the clemency board met Monday, it was flanked by dozens of boxes of support signatures with labels that read, "I am Troy Davis." Some 300 vigils and protests have been held in recent days around the country, including in Times Square. Some 663,000 signatures were collected on Davis' behalf.
Over the past decade, the case, legal experts say, has become an unprecedented cause célèbre for those who want to abolish the death penalty on the grounds it cannot guarantee that innocent people won't be executed.
The federal appeals system has turned the case over exhaustively without changing the verdict, most recently when a federal court judge dismissed Davis's claim of innocence in 2010.
At the same time, seven of nine witnesses have changed or recanted their original testimony, with some saying they were pressured by police to finger Davis. Meanwhile, new questions have cropped up about a key ballistics test, and one juror said in an Amnesty International documentary that, had she known then what she knows now, Davis would not be awaiting his execution.
---