Facebook news: master plan to 'socialize everything we do online' revealed
Watching movies? Listening to music? Facebook wants you to do it all through Facebook. And in a Facebook news conference, it unveiled its plan for achieving this online hegemony Thursday.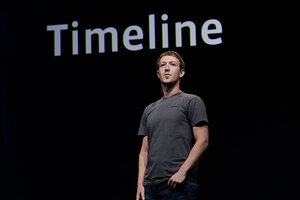 Paul Sakuma/AP
If you worried you were spending too much time on Facebook, the leading social network website is inviting you to spend even more.
In a launch that resembled both a Hollywood Oscars telecast and an arduous graduate school lecture, Facebook CEO Mark Zuckerberg introduced updates to the site that will introduce real-time media streaming and motivate users to upload more personal content than usual in scrapbook form.
With Mr. Zuckerberg and other presenters dressed in T-shirts and sneakers, the event was designed to reference the company's origins as an insurgent Silicon Valley startup. But in describing new features that resemble those of competitors like Google and Twitter, it revealed the company's inherent insecurities as the Internet's top dog.
Now with 750 million users, the company is "a juggernaut," says Anthony Rotolo, a professor in the school of information studies at Syracuse University. "They're not worried about getting new users, it's almost impossible for them not to attract new users as they continue to grow. They're worried about losing users."
Zuckerberg often took a breathless tone in describing the new functions, which were projected behind him on the stage at the company's annual developer conference held at the San Francisco Design Center. The announcement and nearly two-hour presentation was streamed online and, at one point, was being viewed by more than 85,000 people.
---
Follow Stories Like This
Get the Monitor stories you care about delivered to your inbox.