NASA satellite falls on Canada as space junk. No one hurt.
The 6-ton UARS satellite — the biggest piece of space debris to fall from the sky since Sky Lab in 1979 — fell back to Earth early Saturday morning. Debris is reported to have been found near Calgary, Canada.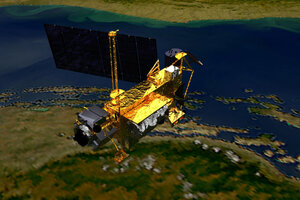 Newscom
The wait is over. NASA's bus-sized Upper Atmosphere Research Satellite (UARS) has fallen, becoming the largest runaway chunk of space junk to drop back down to Earth since two satellites, including the behemoth Sky Lab, punched the atmosphere in 1979.
"We can now confirm that #UARS is down!" reported the official NASA Twitter account. "Debris fell to Earth between 11:23 p.m. EDT Friday, Sept. 23, and 1:09 a.m. EDT Sept. 24."
The satellite, broken up into 26 titanium and other hard alloy pieces expected to survive the fiery descent, reportedly fell at least partly on land. Twitter and YouTube reports pinpointed landfall in Okotoks, Canada, near Calgary.
IN PICTURES: Stuff in Earth orbit
People from Maui to South Florida also reported seeing flashing pieces of the runaway satellite as it skidded across Earth's atmosphere at its orbital speed of 17,500 miles per hour. Debris found in western Canada would confirm NASA's prediction that the debris was likely to enter Earth's atmosphere near the Pacific and potentially scatter debris across a 500-mile-long zone.
---