'L Word' actress discovers new way to get kicked off Southwest Airlines flight
'L Word' actress Leisha Hailey and her girlfriend, Camilia Grey, were removed from a Southwest Airlines flight in El Paso after the couple shared a kiss. The airline says that their behavior was 'excessive.' Hailey and Grey are calling it homophobia.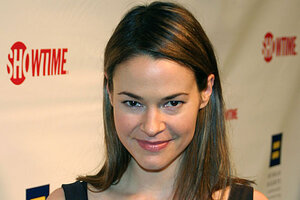 Reggie Collier/WENN/Newscom
Southwest Airlines runs a tight ship. Just ask Green Day frontman Billie Joe Armstrong, who was escorted off an Oakland-to-Burbank flight earlier this month because his pants were too saggy. Or Kevin Smith, who was booted from the same flight last year because he was deemed too fat to fly. Or Florida resident Joe Winiecki who in 2007 was told to change his T-shirt, which displayed a sexual double entendre, or be removed from the flight. Or Mesa College student Kyla Ebbert, who earlier that year was lectured by a Southwest customer service rep who thought her outfit too revealing (Ebbert was wearing a denim skirt, a tank top, and a sweater).
On Monday, musician and "L Word" actress Leisha Hailey and her girlfriend, musician Camila Grey, discovered yet another way to get kicked off a Southwest Airlines flight.
---