New Kindle Fire: Amazon introduces tablet for Everyman (and every kid)
The new Kindle Fire's low price aims to vastly expand the tablet-buying population, and positions Amazon for the future of e-publishing and e-commerce. Merry Christmas!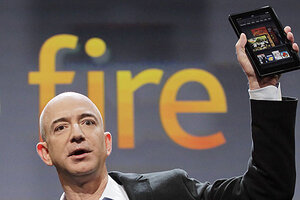 Mark Lennihan/AP
Amazon has certainly grabbed the latest bragging rights in the ongoing tablet wars with Wednesday's unveiling of the Kindle Fire.
Sure, you can argue the fine points when comparing it to the Apple iPad, the industry frontrunner – Wi-Fi versus 3G, no camera or microphone, 8 GB storage with unlimited cloud storage versus a hefty 32 GB onboard the iPad.
But, the price point of $199, less than half that of the cheapest iPad, kicks open the tablet market to the mainstream, say tech watchers. And, they add, turns an important page in the evolving tale of digital publishing.
"This price point is what everyone has been waiting for," says Mary Monahan, managing partner and research director of Javelin Strategy & Research, a third-party analyst firm. "Tablets themselves were game-changers, but a lot of people who were on the fence are going to be jumping down and getting in the game now," she says.
With this cheap entry point, she adds, "this is something you will see families putting in the hands of children. It will be the must-have gift this Christmas season, no doubt." The Kindle Fire will be available Nov. 15.
Amazon's new device is the online giant's bid to be ready for the future of digital content, says David Lankes, a professor and director of the library science program at Syracuse University's iSchool in New York.
---