Anwar al-Awlaki strike: why it's important, but not a death-blow for Al Qaeda
Anwar al-Awlaki was one of Al Qaeda's idea men – a propagandist who inspired youth to jihad. The drone attack that killed him is a 'big setback,' but it doesn't hurt Al Qaeda's capacity.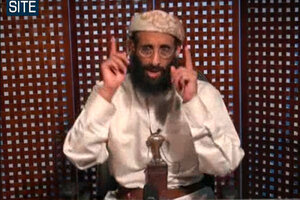 SITE Intelligence Group/AP/File
The killing Friday in Yemen of Al Qaeda in the Arabian Peninsula's American-born Anwar al-Awlaki in an apparent US drone strike will fill the sails of those who insist the global terrorist organization is nearing its demise.
But beyond the debate over whether Al Qaeda is a mortally wounded beast or a Hydra with still-potent force and a capacity for self-renewal is another question: What is the impact of systematically removing the idea men of what is essentially an ideology?
Eliminating Al Qaeda's inspirational figures is important because it denies the movement its best communicators with potential recruits both near and far, many counterterrorism experts say. In the case of an al-Awlaki, they add, that means his demise is likely to have greater impact on Al Qaeda's inspirational reach than on its prospects in the country where he was based.
"They've hit a great propagandist – and propaganda is important – so in that sense this is a big setback for Al Qaeda," says Bruce Riedel, a former CIA officer who is now an intelligence and terrorism expert at the Brookings Institution in Washington.
On the other hand, Mr. al-Awlaki was less instrumental to the future of Al Qaeda in the Arabian Peninsula (AQAP), Mr. Riedel says. So no one should expect this blow to mean much in Yemen, which he describes as a country "collapsing into civil war" – the kind of chaos Al Qaeda thrives on.
---