Hispanics leave school in face of Alabama's tough immigration law
Alabama's new immigration law requires public schools to document the legal status of children upon enrollment. As a result, many immigrant families are withdrawing their children from school.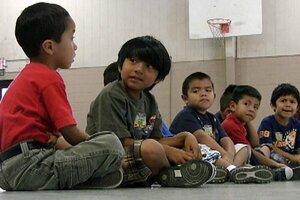 Jay Reeves/AP
Hispanic students did not show up for school in noticeable numbers Thursday and Friday in Alabama following a federal judge's ruling Wednesday that upheld several provisions of a harsh state law restricting illegal immigration in the state.
The absence of Hispanic students has many education leaders worried that immigrant families are withdrawing their children from school to prevent state authorities from looking into their legal status.
The Pew Hispanic Center says the number of illegal immigrants in Alabama rose 380 percent between 2000-2010, from 25,000 to 120,000, and that illegals represent 2.5 percent of the total state population today.
According to the Associated Press, students in several districts with large immigrant enrollments experienced a drop in attendance by Hispanic students. While numbers are not yet available statewide, the shift was noticeable enough for Casey Wardynski, the public school superintendent of Huntsville, to make an appearance on local Spanish-language television Thursday to explain the new state law and assure parents they "do not have anything to fear."
The video was uploaded to YouTube and is linked on the district's website. It is scheduled to run several times each day until Oct. 9.
The anxiety over the enrollment issue is resulting from a ruling by US District Judge Sharon Blackburn who ruled Wednesday that a bill signed into law has several components that pass federal scrutiny, including a provision that requires the state's public schools to require documentation that shows the legal status of children upon enrollment.
Public school officials are trying to dissuade a mass exodus by telling parents that they will track the legal status of their children only to gather statistical information and that they are not allowed, for privacy reasons, to identify students who may be living in the country illegally.
---