Keystone XL pipeline pits jobs against the environment
The proposed Keystone XL pipeline would bring Canadian oil to the Gulf of Mexico. Supporters say it would mean 20,000 jobs. Opponents worry about the impact on the vast Ogallala Aquifer, which supplies water to eight states.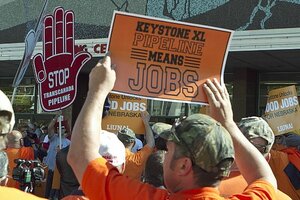 Nati Harnik/AP
Clashes over the proposed extension of the Keystone XL pipeline took place throughout the Great Plains states this week as public hearings allowed supporters and opponents to make their case for or against what is proposed as the longest oil pipeline in North America.
The US State Department held public hearings in Texas, Montana, South Dakota, Nebraska, and Oklahoma – all states that will be impacted if the Obama administration approves the $7 billion, 36-inch pipeline that is designed to travel nearly 2,000 miles delivering Canadian oil to markets in the Gulf of Mexico.
A State Department environmental impact statement released in late August said the pipeline, operated by TransCanada, would cause minimal impact on the environment. Union organizations and business interests say the pipeline will reduce the nation's dependence on overseas oil and create jobs while environmentalists, local farmers and some state government leaders question the company's safety record.
---