Occupy Wall Street protest 'about people claiming some autonomy'
The purpose and future of the "Occupy Wall Street" movement is as vast as the thousands who have gathered there. After 700 arrests Saturday on the Brooklyn Bridge, Sunday was quiet as protesters planned their next big march Wednesday.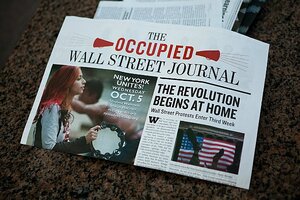 John Minchillo/AP
As the "Occupy Wall Street" demonstrations and sit-in move into their third week, trying to nail down the purpose and future of the movement can seem a frustrating task. It is as vast as the thousands who have gathered there, and it could go on in some form for months. Or not, as the case may be.
About 1,000 people have been arrested so far – most on misdemeanor disorderly conduct charges related to blocking traffic or refusing police orders to move.
But unlike the 1999 "Battle in Seattle" when anarchists and others trashed the city's downtown during a mass protest of the World Trade Organization meeting there, the Wall Street protest has generally been nonviolent. The one notable exception was when a police officer – later identified as Deputy Inspector Anthony Bologna – was videographed shooting pepper spray at women peacefully penned inside police netting. That event is under official investigation.
Film maker Michael Moore and others say it's Wall Street bankers who should be arrested for their role in the country's economic difficulties.
"The world's economy has been wrecked by these rapacious traders," author Salman Rushdie tweeted. "Yet it is the protesters who are jailed."
---