Amanda Knox: What American parents can learn from her story
Amanda Knox, the hikers in Iran, the journalists in North Korea – all cases where young Americans were caught up in a foreign legal system. Some points on how to handle such a crisis.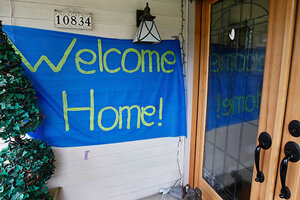 Elaine Thompson/AP
The headlines of Americans caught up in foreign legal systems have become so repetitive they begin to blur:
• Ling and Lee face "hell on Earth" in North Korean camps
• Freed US hikers describe Iranian prison as "world of lies and false hope"
• Amanda Knox heads for home after acquittal
As supporters celebrate the overturned murder conviction of Amanda Knox – and she flies Tuesday from Italy to London to Seattle – legal observers hear the echo of recent cases: the two US journalists imprisoned in North Korea (and released after the intervention of former President Bill Clinton), and the two American hikers who were freed just two weeks ago after spending 781 days in an Iranian prison on spying charges.
Has America learned anything from these episodes?
More precisely, what can and should American parents do when their children get embroiled in a foreign legal system?
Interviews with international lawyers, academics, and communications specialists are creating a primer of action:
• Get the best possible local lawyers
• Contact the local US embassy and the State Department in Washington
---