Illinois train explosion: How safe are ethanol tankers?
A freight train that derailed and exploded Friday in Illinois was carrying ethanol. Though rail transport of ethanol has increased dramatically, accidents involving hazardous materials are down.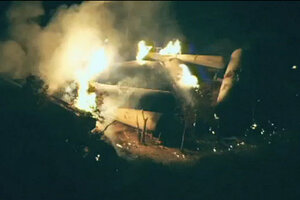 AP Photo/ ABC TV
Fire crews in a central Illinois town are fighting to prevent a possible chemical explosion following the derailment of a freight train that contains tankers of burning ethanol, a component used in gasoline production.
Twenty-six cars of the 131-car train derailed early Friday morning in Tisilkwa, Ill., about 115 miles southwest of Chicago, apparently with nine carrying ethanol. The entire town of Tisilkwa was evacuated Friday due to fears about a possible chemical explosion.
Safety officials first decided to let the flames die off on their own, but by Friday afternoon, following fears the tanks will break open due to the mounting heat, the firefighters changed course and are currently pouring water and foam on the tankers.
It is not yet clear what caused the accident, but the derailment comes at a time when the shipment of ethanol by rail has increased dramatically. At the same time, rail accidents involving hazardous materials have shown modest declines during the past 10 years.
Transporting ethanol by rail increased 400 percent between 2000 and 2009, according to the Association of American Railroads (AAR), an industry advocacy group located in Washington, D.C. Today, there are more than 200,000 carloads of ethanol being shipped, which Patty Riley, a spokesperson for the AAR, says is the result of the increase in ethanol production during the past decade.
Data from the Renewable Fuels Association shows ethanol production in the US increased 64 percent between 2001 and 2010.
---