Plan B on Obama jobs bill is to take it up piecemeal. What will fly?
Parts that deal with tax cuts and transportation projects stand a better chance of getting enough GOP support to pass. Tax-the-rich elements and extra aid to local governments? Probably not.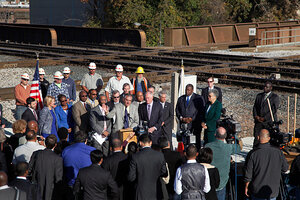 Charles Rex Arbogast/AP
After President Obama's $447 billion jobs bill failed to clear a supermajority hurdle in the Senate on Tuesday, it's on to Plan B – break up the bill and pass the elements that can attract bipartisan support.
Despite partisan attacks on this bill, there is common ground, especially around tax cuts and incentives for businesses to hire and invest.
But Republicans promise strong resistance to any new spending that resembles the president's 2009 stimulus plan, which they say added $787 billion to the national deficit without creating new jobs.
For Democrats, even failed votes on some of these elements are a chance to highlight differences with Republicans, setting themes for the 2012 campaign.
Here's how some of the leading elements of Mr. Obama's jobs bill are likely to fare standing on their own:
• $240 billion to extend a 2 percent Social Security payroll tax cut through 2012. While supporting the concept of tax cuts, House Republicans are wary of the jolt to workers when this payroll tax reverts to its full level in 2013. They also oppose paying for it with higher taxes for the highest income-earners. Still, cutting taxes is instant common ground between the White House and a new House GOP majority. So far, the public doesn't view this measure as sapping resources for a popular entitlement program.
---