Cities fret over democracy's costs as 'Occupy Wall Street' stretches on
Cities see costs mount as they supply security and other services at Occupy Wall Street demonstrations. What are cities' First Amendment obligations to the protesters?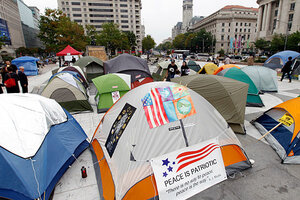 Jose Luis Magana/AP
Almost a month into the "Occupy Wall Street" protests, mutterings and murmurings are being heard among officials in US cities that are playing host. Their beef: The cost of ensuring public safety and providing sanitation is rising into the millions.
Police overtime alone amounted to $1.9 million during three weeks of anti-Wall Street demonstrations in New York, Police Commissioner Raymond Kelly said last week. In Boston, the tab for police overtime is estimated to reach $2 million if the protest continues through the end of October, said the city council president this week. And that doesn't include other costs, such as extra trash pickup, portable toilets, and even electricity being supplied to the protesters' tent cities.
Yes, free expression can whack a big dent in the ol' city budget. But cities have little recourse other than to absorb the hit, as "the cost of democracy," says Mary-Rose Papandrea, an associate professor at Boston College Law School, in a phone interview.
"Cities find these kinds of protests really disruptive," she says, "so it's natural for them to put a dollar sign on what it's costing in order to raise opposition to the protesters." Of course, no one complains about the added city costs of providing security during other kinds of mass public gatherings, she notes. "Had the Red Sox gone to the World Series this year, the cost to the police department could have been way more than these protests."
---