Got protests? A call to action for Occupy Wall Street, groups worldwide
From New York City to Budapest to Tokyo, protest movements worldwide – including Occupy Wall Street in the US – have dedicated Oct. 15 to voicing their various concerns. What unites them?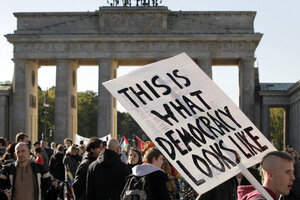 Michael Sohn/AP
On Oct. 15, the many streams of local protests that have been welling up worldwide over the past half-year hope to join in one mighty river of global action.
In more than 950 cities in 80 countries, according to 15October.net, movements akin to the Occupy Wall Street effort in the US will be taking their concerns public – whatever those concerns may be. In New York City, protesters plan to occupy Times Square and transfer their accounts from large national banks to smaller local banks perceived to be less tainted by the foreclosure crisis. In places as varied as Budapest, Tokyo, Helsinki, and Lansing, Mich., there will marches, rallies, concerts, and cultural events.
Just as the protests are all over the map, so are the causes. This, however, does not seem to trouble those who plan to take part.
---