Occupy Wall Street movement intrigues, confounds the tea party
Even as analysts note similarities between the two populist uprisings, many tea party activists say a merger could never happen. Many are put off by Occupy Wall Street's civil disobedience and economic prescriptions.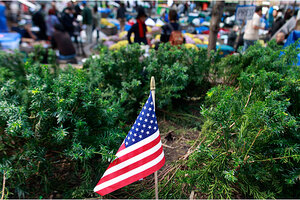 Shannon Stapleton/Reuters
When Joanne Wilder's compatriots from Central New York Patriots wanted to decamp for New York City to help "educate" Occupy Wall Street protesters, the local tea party organizer balked.
"We stay away from this," she told her friends.
That sentiment illustrates the arm's length approach that many tea partyers are taking toward a new social movement that is starting to threaten the tea party's preeminence on the political stage.
Some commentators are drawing parallels between the two populist uprisings – opposition to government bailouts of corporations is one prominent example – and some have even suggested a big-tent merger that could yield policy to alleviate the economic dissatisfaction, political powerlessness, and middle-class angst that drives both movements.
"We've ... got a conservative populist movement and a progressive populist movement happening at the same time," Rory McVeigh, director of the Center for the Study of Social Movements at the University of Notre Dame, tells San Jose Mercury News columnist Chris O'Brien. "There's a sense on both sides that it's us against that unnamed force out there running the world."
---