Forest 'roadless rule': environmental victory or US job-killer?
The 10th Circuit Court of Appeals moved closer to resolving a battle over a Clinton-era executive rule protecting national forests from new roads. But critics see the 'roadless rule' as a job-killing block on the country's natural resources.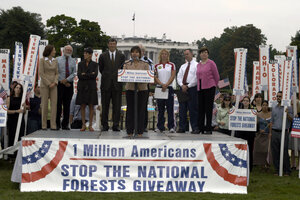 Newscom
Environmentalists on Saturday hailed as one of the biggest conservation victories in decades a federal court ruling that upheld a "roadless rule" to protect massive swaths of national forest.
But while the 10th Circuit Court of Appeals on Friday removed a lower court's block on the "roadless rule," the Clinton-era order protecting over 50 million acres of prime federal forests from timber and mining companies could leave President Obama vulnerable to charges similar to those levied against the White House after the Gulf drilling moratorium: that the administration is unfriendly toward extractive industries that utilize the nation's natural wealth and create American jobs.
The strong 10th Circuit ruling may be the final court decision on a matter that has now touched three presidential administrations. While the "roadless rule" has stirred up a range of controversial issues – states' rights, executive privilege, and wildfire risks among them – the central question likely to be posed to the Obama White House is how it fits into attempts to get the American economy rolling again. The Obama administration said Friday it will enforce the rule.
The Monitor's weekly news quiz for Oct.17-21, 2011
"Obama may be reluctant [to embrace the ruling] at a time when he faces a tough reelection battle and Republicans are eager to accuse him of favoring environmental restrictions that hinder the nation's economic recovery," writes the editorial board of the Register-Guard newspaper, in Eugene, Oregon. "But he should remember Americans … expect their federal government to honor their wishes to protect roadless areas for future generations."
The ruling Friday struck down a 2008 Wyoming court ruling that had blocked implementation of the rule. In 2009, the 9th Circuit Court of Appeals struck down a 2005 change to the rule by the Bush administration that weakened the order by allowing states to rewrite the rules.
---