How far will Ohio go to regulate exotic pets after menagerie shooting?
After police kill dozens of lions, tigers, bears, and monkeys released from a private animal park in Ohio, pressure builds to regulate free-wheeling 'exotics' trade in the US. Animal-rights groups say the trade should be banned.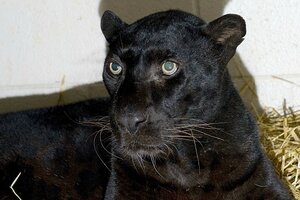 Grahm S. Jones/Columbus Zoo and Aquarium/AP
As dusk fell on the rolling farmland near a private Zanesville, Ohio, animal park on Tuesday, police officers greeted with the stunning sight of growling Bengal tigers, lions, and grizzly bears wandering free were left, they say, with only one option: Open fire.
The tragedy of the Zanesville exotic animals shooting, where 50 of the 56 animals released by owner Terry Thompson were killed by police snipers, drew a visceral and irate national response as the local sheriff received hundreds of angry calls in reaction to photos that showed the bodies of dead tigers and lions lying in a field.
The broader question, however, is whether the backlash to the shootings will force Ohio and other states to address the free-wheeling exotic animal trade in the US, a country which now holds more privately-owned tigers than exist in the wild, and where a tiger cub can be had for $700.
"In every respect this is organized crime," Bryan Christy, the author of an exposé about animal trafficking called "The Lizard King," tells the New Scientist website. "It's just that the commodity makes people smile."
Experts estimate that there are over 5,000 privately-owned Bengal tigers alone in the US, more than a wild population that numbers about 3,600. The breeding, buying, and selling of exotic animals is only loosely regulated in the US and permits are required only when exhibiting animals – a system of loopholes that makes the exotic trade "the most profitable form of trans-boundary trade, bar none," according to Mr. Christy.
---