Tear gas and mayhem at Occupy Oakland: help or hindrance to the cause?
Media zeroed in on Occupy Oakland protesters and their clash with police. Such confrontations could bolster the Occupy movement, some say. But they may also be a sign the protests are winding down.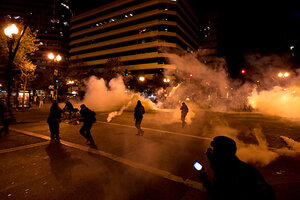 Darryl Bush/AP
Do confrontations and clashes with police – such as those on the nightly news Tuesday that showed tear gas drifting across Oakland, Calif. – egg on the Occupy Wall Street movement or choke its momentum?
That's the question protesters and their sympathizers are asking themselves as cities put greater pressure on them to end or curtail or clean up their Occupy encampments. So far, the movement and its message of rage against economic inequality have won a measure of public support, according to polls. But there's little doubt that protesters are riding the tension between peaceful protest and civil disruption – and different Occupy encampments are making different decisions about what to do.
But even as the protest turned violent in Oakland, police in Atlanta broke up an Occupy protest with little ado early Wednesday. Several dozen demonstrators were carted away and charged with misdemeanors for violating city codes on camping in parks. In Little Rock, Ark., protesters on Tuesday agreed to move from a downtown park to a city-owned parking lot, to abide by a no-camping rule.
But there's a risk to the "occupiers" of fading peacefully into the night, note those who study social movements and civil unrest, and perhaps an incentive to forcefully resist authorities.
"In places where there aren't as many people, if you arrest half or all the people in the camp, then you've taken kind of the heart of the movement out," says Fordham University sociologist Heather Gautney, an expert on US protest movements. "But ... in the real centers of the Occupy movement, places that give it national presence, police are now playing into the narrative and actually giving life to the movement. The kind of show of force that we saw in Oakland is going to incite the movement and push it to another level where it's not just a movement about the 99 percent, but it's a movement about … people's rights to express themselves."
---