'Unearthly' beauty tops jobs? Obama freezes mining near Grand Canyon.
Mining companies say the decision could cost the regional economy billions of dollars. Environmentalists disagree and say mining near the Grand Canyon would mar a natural treasure.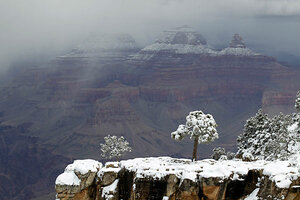 Rob Schumacher/The Arizona Republic/AP/File
Teddy Roosevelt can rest easy. The Obama administration on Wednesday formally unveiled a plan to ban new uranium and other mining claims on 1 million acres of federal lands bordering the Grand Canyon for 20 years – a move that follows in the footsteps of the 26th president's efforts in the early part of last century.
With the price of uranium soaring on international markets, thousands of new mining claims were posted in recent years on lands near the canyon – some within site of public viewing areas. Now, all nascent claims will be blocked from development, although a handful that had already reached a required federal threshold for development may ultimately proceed.
The administration move was telegraphed in June by Secretary of the Interior Ken Salazar, who at that time, announced an "emergency" six-month extension of a ban on mining development in the area. He also endorsed the most restrictive of several options then under consideration to "ensure that all public lands adjacent to the Grand Canyon National Park are protected from new hard-rock mining claims, all of which are in the watershed of the Grand Canyon."
Wednesday's announcement was unveiled in a press release without other fanfare by the Bureau of Land Management (BLM).
---