Another Solyndra already? Some worry even worse is coming.
Beacon Power, like Solyndra a recipient of a federal loan guarantee under the DOE's renewable energy program, has declared bankruptcy, leaving taxpayers to pay the tab. But the firm is tiny. Bigger ones are out there.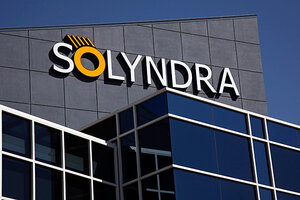 Robert Galbraith/Reuters/File
Have American taxpayers just been saddled with another Solyndra?
Beacon Power Corp., a tiny renewable energy company that was a recipient of a $43 million loan guarantee backed by the Department of Energy, declared bankruptcy on Sunday, leaving taxpayers to cover the $39.1 million in loans the company has not yet repaid.
The figure pales in comparison with the unpaid balance of nearly $535 million left by Solyndra, the California solar startup that declared bankruptcy in September, but it hinted at the potential downside of the DOE's loan guarantee program, through which other companies have received far larger amounts, even billions of dollars.
Creator of a novel, high-tech carbon-composite flywheel to store energy and help regulate fluctuations on the electric grid, Massachusetts-based Beacon Power used the federal loan guarantee and built a 20-megawatt flywheel energy storage facility in Stephenson, N.Y. Such storage systems, including grid-scale battery storage, hold promise because they can respond more quickly than power plants can to power fluctuations in the grid, including from the addition of wind and solar power plants.
But, as was the case with Solyndra, which developed the ability to manufacture solar power panels with a cheaper material than silicon only to see the worldwide price of silicon plummet, Beacon's ingenuity was not enough to ensure its survival.
---