Ricin plot: Target list includes judges, IRS agents, Atlanta, and Washington
Ricin, the deadly toxin, was to be spread on roads in major cities, according to federal affidavits. The alleged plotters, four Georgia militiamen, also sought explosives. 'Some people gotta die' to save the Constitution, an affidavit quoted one as saying.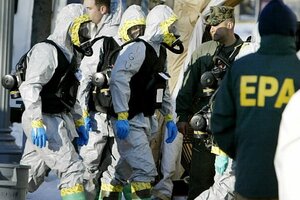 Larry Downing/Reuters
Federal officials have charged four suspected members of a fringe Georgia militia with plotting to purchase explosives and produce the deadly toxin ricin in order to attack government officials as well as populated urban areas.
The four men arrested Monday were secretly recorded by an FBI informant as they discussed plans to obtain weapons and ricin with the intent to kill Justice Department officials and federal judges as well as agents with the Internal Revenue Service (IRS) and the Bureau of Alcohol, Tobacco, Firearms, and Explosives (ATF).
They also plotted to spread ricin, a highly toxic substance made from castor beans, across Washington, Atlanta, New Orleans, Jacksonville, Fla., and other cities, according to federal affidavits filed Tuesday.
"When it comes time to saving the Constitution, that means some people gotta die," an arrest affidavit quotes one of the defendants as saying during one recorded conversation. "I could shoot ATF and IRS all day long. All the judges, and the DOJ, and the attorneys, and prosecutors."
The four men taken into federal custody were Frederick Thomas, Dan Roberts, Ray H. Adams, and Samuel J. Crump, all in their 60s or 70s. They appeared before a US magistrate in Gainesville, Ga. Wednesday afternoon.
"There's no way for us, as militiamen, to save this country, to save Georgia, without doing something that's highly illegal: murder," the affidavit quotes Mr. Thomas as saying during a meeting in March.
Mr. Adams had worked as a lab technician at the USDA's Agricultural Research Service. Mr. Crump once did maintenance work for the Centers for Disease Control. The two are accused of trying to obtain ricin for use as a weapon by spreading it on roads and having it dispersed by vehicles traveling along selected routes.
According to affidavits, the plot also included discussions about mass destruction and numerous casualties resulting from large explosive devices.
---