Occupy Wall Street clash in Oakland: How should police handle protests? (video)
Occupy Wall Street clash has happened in Oakland as well as Denver, with arrests and violence, which has heightened scrutiny of police tactics. Experts give a report card on how police have handled Occupy protests.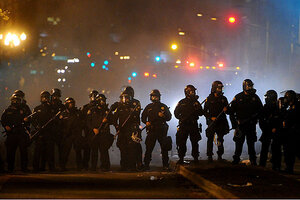 Noah Berger/AP
The violence and arrests that have accompanied Occupy Wall Street protests in several US cities, most notably Oakland, Calif., are raising the question of whether police are becoming too heavy-handed against the movement. Some key incidents:
• In Oakland, where 10,000 marchers shut down the nation's fifth-largest port Wednesday, violence broke out overnight and 80 protesters were arrested.
• Police officers in Denver used mace and shot paintball-like bullets of pepper spray at protesters in front of the state Capitol Saturday.
• Police in Portland, Ore., arrested 27 protesters who refused to leave a public square Sunday, though no violence was reported.
• On Oct. 11, more than 100 protesters in Boston were arrested after they refused to comply with an order to vacate their encampment.
The contrast between Occupy Wall Street clash incidents and the comparative calm of Occupy camps in places such as Los Angeles makes the protests a useful yardstick for gauging what has worked – and what has not – in crowd control and policing. With protesters calling the movement America's answer to the Arab Spring, academics and police watchdog groups are eager to glean lessons about how US law enforcement can best balance the goals of protecting both free speech as well as law and order.
The report card for Oakland so far is mixed – but perhaps improving.
Some critics have harsh words for the city
"This is a city completely out of control with a police force that doesn't know which way to turn, a mayor that is indecisive in giving instructions,… all at the mercy of a mob that is fomenting revolution," says Sam Singer, a political consultant who runs his own public relations firm in neighboring Berkeley, Calif. "This is part of the problem of a leftist progressive mayor who doesn't want to betray her own political background by taking a hard line when she needs to put an end to this because it is giving Oakland a black eye."
But others say the Oakland Police learned volumes from the first episode last week, in which police groups tried to dismantle a downtown encampment.
---