Wealth gap between young and old is wider than ever
Wealth gap between the young and old is deeper than it has ever been. The recession hasn't helped, but the wealth gap has been growing for years.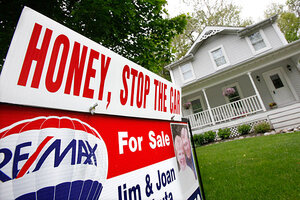 Amy Sancetta/AP
The wealth gap between older and younger Americans has widened sharply in recent years – because of both the deep recession and longer-term trends.

That's the conclusion of a new analysis released by the Pew Research Center, which looked at an array of government numbers to reach its conclusions.

In all, the typical household headed by someone younger than 35 has seen its net worth fall by 68 percent between 1984 and 2009, after adjusting for inflation, according to the Pew report released Monday. Those in the 35-to-44 age group also saw a decline in net worth over that period, a drop of 44 percent.
By contrast, older households posted gains in wealth over the past quarter century. Net worth rose 42 percent for households headed by someone 65 or older. Other age categories saw either a modest gain (10 percent for those age 55 to 64) or a modest decline (10 percent for those age 45 to 54). Overall, the median US household posted a 10 percent gain.

What explains this big divergence?

Top reasons include housing-market trends that have favored the old over the young, the rising burden of student loans on college graduates, and a job market in which challenges appear to have affected younger age groups more heavily.

"These age-based divergences of [wealth] widened substantially with the housing market collapse of 2006, the Great Recession of 2007-2009 and the ensuing jobless recovery," says the new report, by Pew researchers Richard Fry, D'Vera Cohn, Gretchen Livingston and Paul Taylor. "But they all began appearing decades earlier, suggesting they are as much linked to long-term demographic and social changes as they are to the sour economy of recent years."

For example, the typical ages of those entering the labor market and entering marriage – which the report calls "two markers of adulthood traditionally linked to income growth and wealth accumulation" – have risen. Rising college loans are also a long-term trend.
---