Emergency Alert System: Why US is doing first national test now
A test of the federal Emergency Alert System is set for 2 p.m. Eastern time Wednesday. It's the first time the EAS warning system will be tested nationally.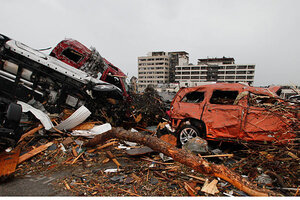 Charlie Riedel/AP
Today at 2 p.m. Eastern time on Wednesday Americans watching television or listening to the radio will see and hear a familiar sounding message: "This is a test of the Emergency Alert System. This is only a test...."
This 30-second audio tone and message will sound like emergency test messages that local television and radio stations have broadcast for nearly 50 years. But Wednesday's test will be the first time the federal Emergency Alert System – a last resort means for the president to address the country in a national emergency – has been tested on a national basis.
At the appointed time, a Federal Emergency Management Agency (FEMA) office in Washington will broadcast to "primary entry point" television and radio stations "live code" for an Emergency Action Notification – the same code the president would use in an actual emergency. Other Emergency Alert System (EAS) stations will then get the message and broadcast it, in a cascading effect.
There are 14,000-plus broadcast television and radio stations, as well as 10,000-plus cable television systems in the EAS.
The EAS uses a "daisy chain" approach in which a few dozen television stations relay their signals to secondary stations, which in turn relay their signals to others. One advantage to such a system is that it isn't likely to get clogged, like cellphone networks often do during emergencies, as they did after the 9/11 attacks.
But will this system, a holdover from the cold-war era, really work?
Today's EAS system is a direct descendant of CONELRAD (Control of Electromagnetic Radiation), a military alert system created in 1951. Then in 1963, after the Cuban Missile Crisis, the Emergency Broadcast System (EBS) was created by expanding the military system to include state and local governments. Finally, the system was upgraded and automated in the 1990s, and its name was changed to the Emergency Alert System.
---