Veteran's Day: why 22 percent of young vets are unemployed
Veteran's Day is drawing attention to the unemployment rate for veterans of the Iraq and Afghanistan wars, which outstrips the national average. But efforts to help are growing.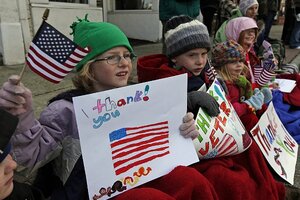 Alex Brandon/AP
Sgt. Mark Chambers served in the US military for 24 years before he decided to retire and make his transition into full-time civilian life.
That was in December 2009. For 18 months the Army National Guard veteran searched and searched for a job as his bank account began to dwindle. "I started dipping into my savings, draining that – house payments, car payments, repairs, trying to help my mother..."
He found himself unprepared for the job hunt of the civilian world, he says – as well as the target of scammers preying on Sergeant Chambers and other recent veterans during a vulnerable time in their lives.
Chambers's experience increasingly mirrors that of veterans throughout the country, says Bill Nelson, executive director of USA Cares, an advocacy organization for service members and veterans.
Unemployment in some units of former Guard and Reserve veterans "is running 20 to 40 percent in some cases," he says, and the national veterans unemployment rate is more than 10 percent, outpacing the rate for the general population (9 percent). Among veterans of Afghanistan and Iraq, the rate jumps to 12.1 percent.
For veterans under age 25, it is 22 percent – 5.3 percentage points higher than it is for all Americans aged 16 to 24.
In a nod to these figures, and in anticipation of more veterans joining the ranks of the job seekers as the wars wind down, the Obama administration this week urged lawmakers to pass tax credits for companies that hire veterans. The Senate passed a bill Thursday, 94 to 1, that includes such tax credits, as well as other measures to help veterans. The House could pass the bill next week.
The president also announced the launch of new online services and a job bank to help vets in their search for new careers outside the military.
Also on Thursday, first lady Michelle Obama announced commitments from companies to hire 100,000 veterans and military spouses by 2014, part of the Joining Forces initiative launched in April by Mrs. Obama and Jill Biden, the vice president's wife.
"That's 100,000 veterans and spouses who will have the security of a paycheck and good career," Mrs. Obama said in a speech to the US Chamber of Commerce. "That's thousands of families that can rest just a little bit easier every night."
---