Fewer plan to shop on Black Friday 2011, survey finds. What do they know?
Forty-four percent of Americans plan to shop on Black Friday 2011, a new survey shows. That compares with 47 percent in 2010 and 52 percent in 2009. Today's shoppers have more bargain-hunting tools.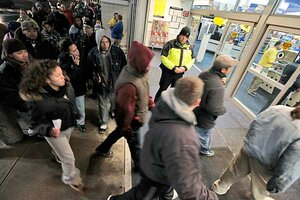 Peter Pereira/The Standard Times of New Bedford/AP/File
Sigh. Black Friday just isn't what it used to be.
That's partly because the economy is so lackluster, according to a new holiday shopping survey released by Accenture, a global management consulting company. But it's also because consumers are better equipped – with smart phones and other devices – to help them land the best bargains, whether they occur on Nov. 25, this year's Black Friday, or another day between now and Christmas.
"This holiday season will see the balance of power continue to tip in favor of the consumer," says Janet Hoffman, managing director of Accenture's Retail practice.
Black Friday, traditionally the biggest shopping day of the year, has become something of a tea-leaf-reading exercise for those seeking to gauge the health and direction of US consumerism. The expectations this year?
Nearly three-quarters of respondents in the Accenture survey expect their spending to be "careful" or "controlled." Eighty-eight percent intend to spend the same or less than last year.
Moreover, the importance of Black Friday is sliding, its research shows. Forty-four percent say they are likely to shop that day, compared with 47 percent in 2010 and 52 percent in 2009.
Compared with last year, a larger proportion of shoppers say they'll leave their holiday shopping until after Black Friday (52 percent versus 41 percent in 2010), and one-third will leave the bulk of their purchases until December.
One-quarter of shoppers plan to have a "thrifty" holiday season, and almost 1 in 5 (18 percent) claim they will be "focused on necessities," with only 6 percent acknowledging plans for "extravagant" or "unrestrained" holiday spending. Ninety-three percent say discounts are important this year.
---