After extending olive branch, Los Angeles posts eviction notice on Occupy LA camp
After supporting Occupy Wall Street with City Council proclamations and invitations to stay indefinitely, Los Angeles prepares to evict the 485-tent Occupy LA encampment that has spent seven weeks on the City Hall lawn.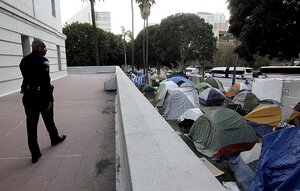 Jae C. Hong/AP
Arguably the most peaceful and orderly large Occupy Wall Street encampment – a nearly 500-tent occupation on two flanks of Los Angeles City Hall – is scheduled to be evicted at 12:01 a.m. Monday.
While police in cities from Oakland to New York City have clashed, sometimes violently, with the grassroots economic justice movement that sprang up near-spontaneously in October, Los Angeles has until now extended an olive branch. Mayor Antonio Villaraigosa, a former community organizer, has proclaimed that the movement has "awakened the country's conscience."
But even after City Council president Eric Garcetti originally told protesters to "stay as long as you need to," the city has now withdrawn that invitation, citing destruction to the City Hall lawn as one reason to evict protesters.
RECOMMENDED: Top 5 targets of Occupy Wall Street
"The movement is at a crossroads," Mr. Villaraigosa said on Friday. "It is time for Occupy LA to move from holding a particular patch of park land to spreading the message of economic justice and signing more people up for the push to restore the balance to American society."
---