AMR: What does Chapter 11 bankruptcy mean for American Airlines fliers?
American Airline parent corporation, AMR Corp., filed for Chapter 11 bankruptcy Tuesday. With peak travel season just around the corner, experts are split over what it could mean.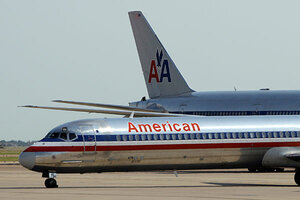 Tony Gutierrez/AP
American Airlines' parent corporation filed for Chapter 11 bankruptcy proceedings Tuesday, while simultaneously assuring the flying public that things will be "business as usual" while the company restructures.
The parent firm, AMR Corp., said American will keep flying its routes, honoring mileage awards, and paying full salaries and benefits for employees.
That still leaves many travelers wondering about the future of a once-leading airline. And the unsettling news comes with a peak travel season just around the corner.
Users of the social network Twitter revealed the uncertainty with comments like, "probably not going to fly with American Airlines" and "i'm so glad i fly @delta."
At the same time, many fliers are aware that bankruptcy has become a periodic fact of life in this competitive industry. American is just the last holdout among the "legacy" carriers, struggling with higher wage and pension costs than discount rivals.
United Airlines, Delta, US Airways, and other carriers have flown this route before – cutting labor costs and debt burdens in bankruptcy.
Thomas Horton, who was named the new CEO of American's parent company, said the airline may modestly reduce the number of routes it flies.
Such court-approved restructuring can be a tool of survival, by which companies avoid outright failure. But some industry analysts say the maneuver into bankruptcy Tuesday doesn't assure American's future success.
"This did not come as a surprise with AMR's stock trading under $2 a share," says George Hobica of the website Airfarewatchdog, by e-mail. "The real question is whether the airline will survive long-term, or go the way of other iconic 'flag carrier' airlines such as TWA and Pan American."
---