Evicted but defiant, Occupy LA faces crisis moment
Police rousted Occupy LA protesters from their encampment Wednesday, meaning the movement must reinvent itself to survive. But Occupy LA leaders say they've got a lot up their sleeves.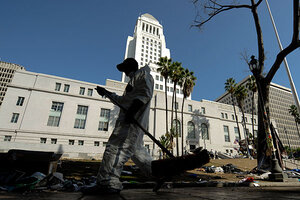 Gus Ruelas/AP
As nearly 300 arrested Occupy Los Angeles protesters await a bail appeal, the movement itself is facing the larger question of what comes next for what was the largest remaining Occupy movement encampment in the nation.
The occupation, which swelled to nearly 500 tents at its height, was cleared early Wednesday by a force of 1,400 law-enforcement officers.
City sanitation workers are already clearing what truck driver Leo Ramirez told local reporters was "probably 25 or 30 tons of debris," including sleeping bags, tents, food, clothing, and a random assortment of what one worker dubbed, "biohazards."
But activists say their movement is not about their gear – and their message will remain.
"The entire city is now aware of what we are trying to say," says Lisa Clapier, a member of the Occupy LA media team. "We are ready to move into the neighborhoods and the rest of the city. This hasn't stopped us at all."
Dozens of protesters have decamped to a nearby church, La Placita, where she says Father Richard Estrada has given them "indefinite sanctuary."
The group plans to hold a general assembly Wednesday afternoon and already has plans to locate another park in the financial district to occupy. Beyond that, the group has scheduled further actions, Ms. Clapier notes. On Friday, it will occupy Los Angeles's Norwalk Courthouse, which will hold foreclosure property auctions.
"We are asking for a moratorium on these foreclosures," says Clapier.
---