Santa Ana winds: Pasadena on emergency footing as powerful winds whip Southern California (VIDEO)
Santa Ana winds: Pasadena is reporting hundreds of trees down and one wind-related injury. Hundreds of thousands of Southern California residents are without power from the worst Santa Anna winds in more than a decade.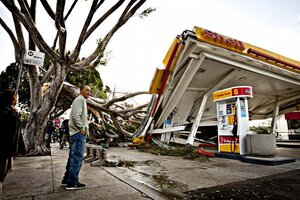 Bret Hartman/AP
Southern California is being buffeted by the worst windstorm in more than a decade – gusts have been clocked as high as 100 miles per hour – resulting in widespread power outages, diverted flights, hundreds of trees down, and the city of Pasadena on an emergency footing.
The high Santa Ana winds, which began late Wednesday, have rattled residents and businesses all over the West, from Utah to Southern California. Hundreds of thousands of people are without power, and colleges, schools and at least one movie studio have shut down.
While some meteorologists are referring to the storm as an especially severe form of the Santa Ana winds that Southern California experiences at this time of year, others say the storm's wind patterns are unusual, affecting communities that don't usually experience such violent weather.
According to the National Weather Service, what's driving the strong winds is a large, cold, low-pressure system centered over Needles, California. The service expects the system to stay put, rotating counter-clockwise for at least another day, although with declining power.
---