Would EPA air-pollution rules lead to massive blackouts? Feds weigh in.
Energy-industry groups said that new EPA air-pollution rules could threaten the reliability of the American power grid. The Energy Department countered that claim with its own report Thursday.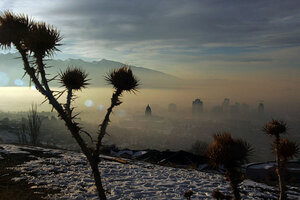 Brian Nicholson/Deseret News/AP/File
The results of a Department of Energy study suggest that two new federal pollution rules would not result in widespread blackouts or compromise the American electricity grid, federal officials announced Thursday.
The energy industry has claimed that the rules would result in a dangerous number of power plants being closed or having to come offline for pollution-control updates. The result, according to an industry report, would be a huge cut in power generation that threatened the reliability of the grid.
Modeling done in what the DOE calls a "stress test," however, found that overall resources would be adequate, with the exception of a small amount of additional natural-gas power generation needed in Texas. While "resource adequacy would not be compromised," the retirements of power plants and other factors "could lead to grid-reliability challenges" in some localized instances, the report stated.
The back and forth is the latest round in the battle between the Obama administration and pro-business Republicans in Congress over whether new environmental regulations are "job killers." Industry officials have warned that a wave of power-plant closures could not only weaken the power grid but also cost thousands of jobs.
One of the flash points the DOE sought to address Thursday is the Cross-State Air Pollution Rule – the Environmental Protection Agency's revision of a Bush-era rule that was overturned by the courts. It reduces permissible smokestack emissions of sulfur dioxide and nitrogen oxide in Eastern states and goes into effect Jan. 1. It allows a three-year transition.
The other rule at issue is the Mercury and Air Toxics Standards rule, which requires power-plant operators to filter out mercury and other poisons. It is set to be unveiled later this month.
---