Unemployment rate may give Obama boost
Unemployment rate: Obama may benefit from the unemployment rate drop as the country heads into a presidential election year.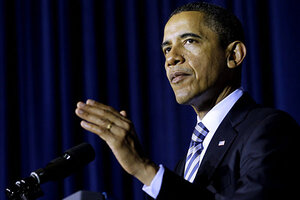 Haraz N. Ghanbari/AP
Finally, a flicker of economic hope for President Barack Obama and his fellow Democrats, even if it's a faint one.
November's sharp drop in the unemployment rate shows that jobs are finally moving in the right direction and suggests the economy is on firmer footing as the country heads into a presidential election year.
The Labor Department reported the jobless rate fell to 8.6 percent in November from 9 percent the month before, a 2½ year low.
That's still high unemployment by historical standards. And lots of problems still lurk — from Europe's debt crisis to congressional gridlock to the tens of millions of Americans still out of work or otherwise feeling economic distress. Furthermore, part of the improvement came because 300,000 people stopped their job searches and were no longer counted as unemployed.
But Friday's report, combined with other recent economic data showing advances in manufacturing and consumer spending, could give Obama momentum for the re-election campaign.
The White House and congressional Democrats were quiet in showing any enthusiasm they might have felt, instead using the new figures to step up criticism of anti-tax Republicans for blocking measures they said could help create even more jobs. Those include an extension of an expiring Social Security payroll tax cut that largely benefits the middle class.
---