Postal Service says cost-cutting will delay mail. How slow will it go?
The US Postal Service, facing billions in losses, proposes cuts to its processing facilities that will delay the delivery of stamped mail by one day. But the changes won't affect the busy holiday period.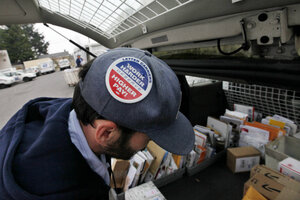 Elaine Thompson/AP
It may still be called "first class," but under changes proposed Monday the US Postal Service says delivery of stamped mail will become slower.
The good news: The Postal Service expects the moves will add about a day to delivery times, not more, as it cuts the number of big processing facilities roughly in half in a bid to avert financial ruin.
A letter that used to reach its destination the next day might now take two days. Many items that arrived in two days would now take three. The same goes for items like Netflix DVDs, a change likely to frustrate both the company and its customers.
One thing that won't change: The typical delivery within the 48 contiguous states won't be longer than the current standard of three days or less, said Postal Service vice president David Williams in a press conference Monday.
And for people already anxious about their holiday cards and gifts, some reassurance: This change won't happen for at least three months, so it won't affect the busy month of December.
"We've got more capacity in our network than we can afford," Mr. Williams said, citing projections of a $14 billion annual loss in explaining the move. "We have got to look at every opportunity that's within control of the Postal Service to save money."
The Postal Service plans to close more than half of its 461 processing facilities nationwide. This is part of a larger series of moves, announced in September, designed to bring the service back toward profitability at a time when traffic is rapidly being siphoned into digital channels.
Increasingly, everything from bill payments to family photos travel online rather than on planes and trucks. After reaching a peak in 2006, "we have lost 27 percent of our first class mail [volume]," Williams said. The Postal Service expects demand will fall nearly in half from its current level by 2020.
---