Pearl Harbor Day 2011: three enduring mysteries
On Pearl Harbor Day, historians continue to debate the mysteries of Pearl Harbor. The Japanese attack created some of the great unanswered questions of military history.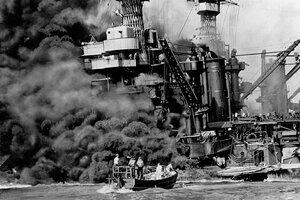 AP/File
Pearl Harbor. In the United States, the name alone means surprise, defeat, and the rise of common purpose from ashes. Seventy years on, the Japanese surprise attack on US forces assembled in Hawaii remains one of the American people's most powerful historic memories.
Every year on Dec. 7 the nation pauses to remember the 2,400 US personnel who died that day, and the generation of ordinary citizens which picked up Pearl Harbor's fallen flag and fought to victory in World War II.
"We look to December 7, 1941, to draw strength set by the example of these patriots and to honor all who have sacrificed for our freedom," said President Obama in his proclamation for Pearl Harbor Remembrance Day 2011.
But seven decades later, Pearl Harbor also remains a mystery. More specifically, it remains an event that has produced some of the great unanswered questions of military history.
Why did the Japanese attack a nation whose industrial might was an order of magnitude larger? Why didn't the US see the signs that a strike was coming? Who in the US chain of command was most responsible for American unpreparedness?
Today, historians continue to debate many of Pearl Harbor's puzzles, producing new evidence and theories. Here are just a few of those continued conundrums.
Why weren't US bases on alert?
---