Why Robert Noyce should have won two Nobel Prizes, but didn't
Robert Noyce, the co-inventor of the microchip, could have won a Nobel Prize on two different occasions, but didn't. For Robert Noyce, it was a case of bad timing and bad advice.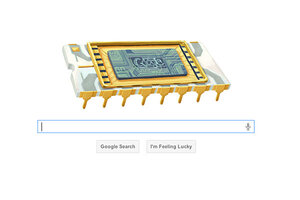 Google
Today – on what would have been Robert Noyce's 84th birthday – many people are scratching their heads and wondering why the co-inventor of the microchip, co-founder of Fairchild Semiconductors, and owner of more than a dozen patents, never won a Nobel Prize.
The answer might be that he was not aggressive enough in the "I'll keep this all to myself" department. He also may not have exercised his "peacock" gene – in the sense of displaying himself colorfully enough to get fully noticed.
For example, in 1973, Japanese physicist Leo Esaki was one of three recipients of the Nobel prize in physics. The citation was for Mr. Esaki's "pathbreaking work on the tunnel diode, a device that provided the first physical evidence that tunneling, a foundational postulate of quantum mechanics, was more than an intriguing theoretical concept," writes Leslie Berlin in his 2005 book, "The Man Behind the Microchip."
Leslie continues:
"Noyce had written a complete description of the tunnel diode nearly a year and a half before Esaki published his work in 1958. The two men's research was thus happening almost simultaneously on opposite sides of the Pacific. Noyce had not published his ideas, however, because his boss, the Nobel laureate William Shockley, discouraged him from pursuing them."
An article in the online "History of Computers and Computing" carries a postscript that suggests that Noyce later felt he perhaps should have done things differently.
---