Why is Occupy Wall Street now trying to occupy West Coast ports?
Occupy Wall Street tried to shut down West Coast ports Monday to show that it had staying power even after its tent cities have been dispersed. It's a test of whether the movement survives.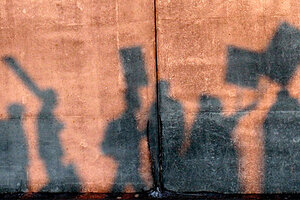 Don Ryan/AP
Occupy Wall Street's call for port closures up and down the West Coast Monday is an ambitious effort to determine just how viable the movement can be without its symbolic tent encampments.
Many people, both inside and outside the movement, are questioning whether the Occupy movement can survive on daily actions alone. The idea behind Monday's action was to shut down ports in a effort to cut into multinational corporations' profits.
The success or failure of the marches will offer some clues as to whether the movement will become increasingly marginalized without the persistent presence of their encampments, says George Ciccariello-Maher, a professor of history and politics at Drexel University in Philadelphia.
Depending on how it plays out, "this is the sort of event that could catalyze momentum for the entire movement," he says.
Success means numbers – how many people turn out, and how many ports are shut down for how long, he says.
But success also means getting the message out to more people. He notes that the movement has been successful in driving a national narrative around topics such as income inequality and corporate influence in the political system. "What national figure hasn't begun to talk about the 99 percent versus the 1 percent?" he asks.
Success for Monday's actions will mean continuing to keep that message in the national dialogue, he adds.
Protesters managed to shut down port operations in both Portland, Ore., and Longview, Wash., while solidarity actions were held as far away as Houston, Salt Lake City, and Japan.
---