Penn State scandal: What's Jerry Sandusky's trial strategy?
Jerry Sandusky arrived today for a preliminary hearing on charges of sexually molesting 10 boys. A former Penn State coach, Sandusky maintains his innocence.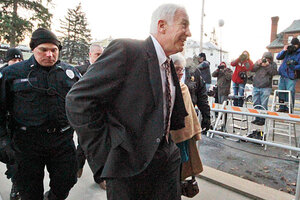 (AP Photo/Gene J. Puskar)
Former Penn State football coach Jerry Sandusky appears determined to hold out for a trial on child sexual abuse charges that could put him in prison for the rest of his life, legal experts said.
Sandusky could face some of his accusers for the first time at a preliminary hearing today to determine if there is enough evidence to hold him for trial. Sandusky arrived at the courthouse in Bellafonte, Penn., this morning. The hearing is expected to last at least a day. Court records show that six witnesses have been subpoenaed for the hearing and legal experts said some of those likely would be accusers.
Sandusky has maintained his innocence on 52 counts of sexually molesting 10 boys. A celebrated football coach at Penn State for decades, his arrest a month ago and the fallout have damaged the reputation of Pennsylvania State University and focused national attention on the problem of child abuse.
IN PICTURES: Fallout from the Penn State scandal
So many media applied to attend the preliminary hearing in Bellefonte, Pennsylvania, that a special credentialing system was set up. The court Tuesday will not hear a plea of guilty or not guilty, which will come at a later arraignment.
Soon after Sandusky was first charged on Nov. 5, his attorney, Joe Amendola, mused in media interviews about a plea agreement. He has since rejected that.
Experts said the 67-year-old former coach may believe he has nothing to lose with a high-profile trial given the battery of accusations against him.
``Unless he decides he just wants to stop fighting it, I don't see what's in it for Sandusky to plead guilty,'' said Christopher Mallios, an adviser to AEquitas, a resource group for sex crimes prosecutors.
THE INTERVIEW
Sandusky has already laid out his potential defense, saying in an interview with Bob Costas of NBC television that he engaged in horseplay with alleged victims but stopped short of sexual intercourse or penetration, Mallios said.
---