Behind decline in US-Mexico border crossings: higher risks, lower rewards
The number of illegal immigrants arrested on the US-Mexico border is the lowest since the 1970s. Officials say beefed up border manpower and a less-attractive US economy have led to fewer attempted border crossings.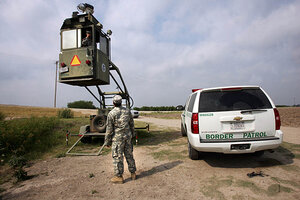 Delcia Lopez/AP
Arrests of illegal immigrants along the Southwest border are down to levels not seen since the 1970s, signaling that fewer people are trying to enter the United States amid strengthened enforcement and a weakened economy.
The drop in would-be border crossers continues a downward trend that US immigration officials attribute largely to a massive and unprecedented buildup of law-enforcement manpower and technology in recent years.
"It all works together, it slows them down," says border patrol agent Jason Rheinfrank, an agency spokesman in the Tucson, Ariz., sector.
The 327,577 people arrested along the 2,000-mile border with Mexico in fiscal 2011, which ended Sept. 30, is the lowest number recorded since 1972. By comparison, more than 1.6 million people were caught trying to sneak into the US in 2000.
In Arizona, which is the busiest corridor for illegal crossings, arrests totaled 129,118 – a 41 percent drop from the previous year and the lowest since 1994, when the border patrol detained 160,680 people.
Texas followed with 118,911, California with 72,638, and New Mexico with 6,910.
---