Kim Jong-il death sparks hopes of reunification for Korean-Americans
Korean-Americans say North Korea is in an uncertain position after the death of leader Kim Jong-il, but they hope that the event could ultimately lead to the reunification of North and South.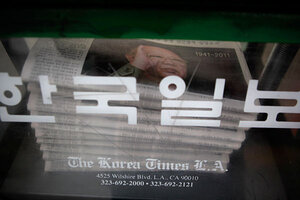 Jae C. Hong/AP
The largest community of Koreans outside Asia is taking the news of North Korean leader Kim Jong-il's death with equal parts elation and caution.
About 120,000 Koreans live in the three-square-mile enclave near downtown Los Angeles, and interviews in Koreatown Monday point to Mr. Kim's deep unpopularity here. To a person, those interviewed were delighted that Kim is gone and hope that the event could bring North and South Korea closer to reunification.
But they also acknowledged that war was an equally possible outcome, given the potential for instability in the reign of Kim's 20-something son and successor, Kim Jong-un.
"Older people are relieved that he's gone," says general contractor Jin Park, who was 2 years old when the country was divided and has two brothers living just south of the demilitarized zone dividing the Koreas.
Sitting with three colleagues at the Vermont Galleria, Mr. Park says Kim was even more repressive than he was portrayed in the West and his friends nod. "But we really don't know what his son will do," he adds. "He could be worse than his dad. He's so young, I don't think anyone feels he will last long in power."
---