Holiday travel: why airports will be a little emptier this year
The airline industry expects about 20,000 fewer people per day to fly this holiday period – not good news for an ailing industry already hurting from volatile fuel costs.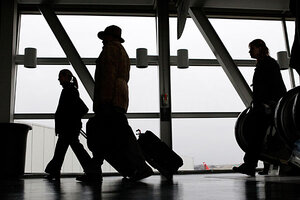 Amy Sancetta, file/AP
The airline industry said Tuesday it expects about 20,000 fewer people per day to fly this holiday period.
But, forget about trying to change your seat from the middle to the aisle. The airlines have already cut the number of flights or scaled the size of the airplanes to reflect fewer travelers this holiday period.
About 43.3 million people will take to the air during the critical 21 day holiday period, down about 1 percent from last year, according to Airlines for America (A4A), an industry trade group. The industry expects the decline in air travel to continue through to the spring.
According to John Heimlich, chief economist for A4A, the main reason there will be fewer travelers are economic, such as declining disposable personal income, a drop in household net worth, and higher energy prices.
However, the airline industry, responding to cost pressure, has increased fares about 10 percent over last year.
But, on some routes, it's a lot more, says Rick Seaney, the CEO of CompareFare.com, a website that tracks airfares. "The area where the rates have gone up the most are the mid and long haul routes," says Mr. Seaney. "So if you are flying from San Francisco to Las Angeles, the rates are not up much, but if you are going to Chicago, Houston or New York [from San Francisco], they are up about 15 percent to 16 percent."
---
Follow Stories Like This
Get the Monitor stories you care about delivered to your inbox.