Snowstorm US: blizzard heads north, but Southwest still digging out
Snowstorm watchers say the snowstorm that hit the southwestern US will lose some steam as it leaves the region, but travel is still difficult in Kansas and the Texas Panhandle.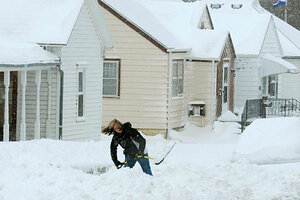 Steven Hausler/Reuters
Key highways reopened across the Southwestern US Tuesday, as a major blizzard moved north after leaving big drifts of snow in its wake.
Traffic resumed on affected portions of Interstates 40 in New Mexico and 70 in Kansas, major east-west arteries in the region. Interstate 25, heading north through New Mexico, was also able to reopen, according to local news reports.
Even as the storm heads north and east, the region didn't get a simple all-clear signal.
Texas officials still urged drivers to steer clear of the panhandle region, where accumulations Monday reached nearly a foot in some places.
"We're really discouraging people from traveling, especially west of Amarillo right now," Trooper Lonny Haschel told the Associated Press. "We need roadways clear so crews can get in and take care of this snow and ice."
Parts of Kansas were still under a winter advisory. Drivers faced a potentially hazardous combination of rain, sleet, and freezing temperatures.
But the good news was that a major storm was in wind-down phase.
The National Weather Service declared travel through the region to be "treacherous" Tuesday, but said the worst of the snows had passed. Driving conditions remained difficult in many areas, after the impassable whiteout swirled through the day before.
---